SORRY! This Contest has Closed!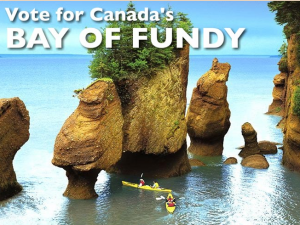 Have you ever been to the Bay of Fundy? If not, you are missing out on a breathtaking experience!
When you vote for the Bay of Fundy in the contest to name the New7Wonders of Nature, you could experience this wonder for yourself valued at $7000.
Take a couple seconds to peruse the other finalist for this contest, there are some truly amazing wonders this world has to offer! My, how nice would it be to see some of these in person. 🙂
Good Luck!
-Caitlin
More Related Offers: