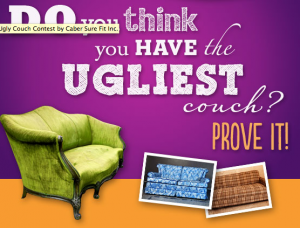 Do you think you should take the cake of the ugliest couch ever? Being a university student, I can say that I have seen my fair share of ugly couches and currently own one that looks similar to my grandmothers curtains.
Submit a photo of your ugly couch and you could $1000 along with $500 towards a Sure Fit Slip Cover.
Slip covers are an awesome way to keep your furniture looking new, and hopefully it will never be entered in one of these contests in the future!
This contest closes on June 4th.
Good Luck!
-Caitlin
More Related Offers: