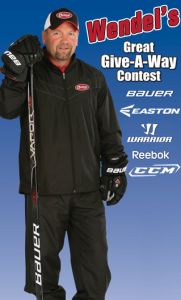 Living in Canada means that it's safe to say we have a huge hockey fan base. It doesn't matter if you, your hubby or your kids love hockey because this contest is perfect for any hockey fan at heart.
There are two prizes to be won. The skate prize will be awarded to 18 kids aged 9 to 13 who will get to skate with Wendel Clark at his rink located in King City, Ontario. The equipment prize is awarded to 40 contestants. They will each win 1 of the awesome 40 pieces of equipment they have to give away.
This would definitely get you set up for the upcoming hockey season!
Good Luck!
-Caitlin
More Related Offers: