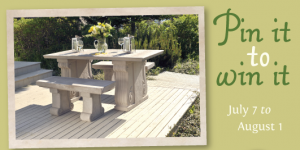 Have you been taking advantage of this gorgeous summer weather we are having? I try to spend as much time outside but I would probably spend a lot more time if I had some new outdoor furniture!
For the chance to win a $500 Wicker Emporium gift card you need to create a Pinterest board that features your dream room, deck, or patio full of Wicker Emporium furniture, linens and decorative items.
I love pretty much all the products from the Wicker Emporium line so making a pin board will be a piece of cake, and I just so happen to love Pinterest too! 😀
Don't forget to follow us on Pinterest as well!
This contest closes on August 1st.
Enjoy!
-Caitlin
More Related Offers: