SORRY! This Contest is Now in the Voting Stage!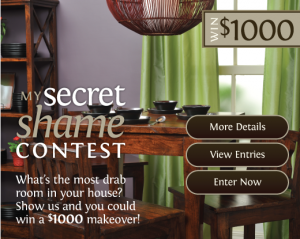 What is the most drab room in your house? Is it your kitchen, bathroom, or bedroom?
Are your kitchen have cupboards falling off the hinges? Does your bathroom have tile from the '80's? Maybe the living room has that hot orange carpet that was oh so popular when YOUR parents owned the house. It sounds like it is time for an update!
Upload a photo of this shameful room and you could win $1,000 room makeover from Wicker Emporium!
My basement needs a lot of work, it would be really nice to win some helps!
Enjoy :),
-Sandra☆
More Related Offers: