This contest has CLOSED.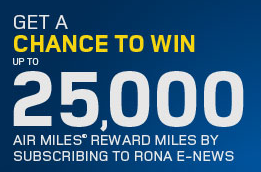 If you could travel any where in the world, where would it be? Would you like to lay out on a beach with the beautiful Hawaiian mountains as your foreground? Or maybe you prefer skiing the Swiss Alps and relaxing in a luxurious lodge?
Whatever your dream location for a vacation would be, Air Miles and Rona want to make it happen. Enter now for your chance to win 25,000 Air Miles Reward Miles. I'm not too sure how Air Miles work but I also think you can apply them to any renovations you plan to do in your home!
I have been dying to head somewhere warm this Christmas, maybe this will be my chance! 🙂
Good Luck!
-Caitlin
More Related Offers: