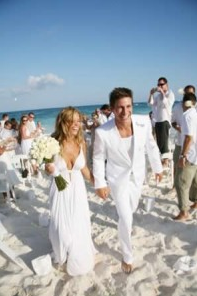 Planning on tying the knot soon? If you have always dreamed of getting hitched while barefoot in the sand, Weddingbells has the perfect contest for you.
Enter now for your chance to win a $15,000 elopement prize package. You will be married on lucky December 12th, 2012 (the last triple wedding date of the century!). Not only that, but you will be featured in the Weddingbells magazine!
The prize pack comes with tons of perks, click on the link to find out what they are!
I think it would be so fun to get married in a tropical location. After the wedding you can relax since you are already at a honeymoon location!
This contest closes on August 24th.
Good Luck!
-Caitlin
More Related Offers: