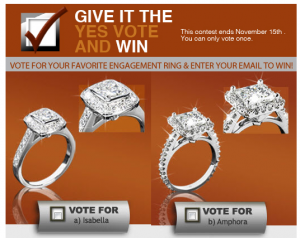 My favourite diamond cut is princess, and lucky for my fiance he knew that when he was picking out my engagement ring. The ring I got was amazing, and I couldn't ask for more.
If you would like another ring (for the other hand, or to replace the one you have) enter this great contest!
"Like" Whiteflash.com on Facebook and vote for your favourite ring and enter for your chance to win!
Needless to say the Princess cut one is my favourite!
Enjoy :),
-Sandra☆
More Related Offers: