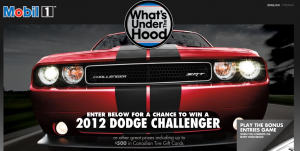 Mobil1 is giving you the chance to win a 2012 Dodge Challenger thanks to their What's Under the Hood contest.
Even if you don't win the grand prize, you will still be eligible to win one of the 8 weekly $500 Canadian Tire Gift Cards or the 56 daily $50 Canadian Tire Gift Cards.
I think the hubby would like this contest more than I would. He would still have to earn some major brownie points before he has the rights to drive. 😉
This contest closes on June 22nd.
Good Luck!
-Caitlin
More Related Offers: