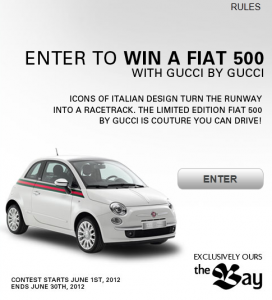 Are you in the market for a new ride? Even if you aren't I'm sure you wouldn't mind trading in your car for this couture ride!
Enter for your chance to win a Fiat 500 with Gucci by Gucci.
Icons of Italian Design turn the runway into a racetrack. Sounds like a ride all your friends will be jealous of! 🙂
This contest closes on June 30th.
Good Luck!
-Caitlin
More Related Offers: