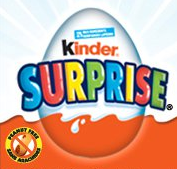 If you came home with a Kinder Gift Basket filled with all kind of delicious chocolates and toys, I think you can agree with me that you would be the most popular parent in town!
Enter now for your chance to win a deliciously wonderful Kinder Gift Basket.
Kinder has also released bigger and better toys, so that gives you one more reason why you should be excited to win!
I don't have kids but who says I can't enter for myself? I love chocolate! 🙂
Good Luck!
-Caitlin
More Related Offers: