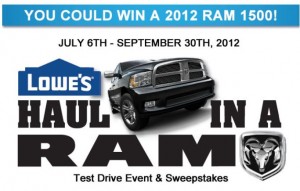 I drive a 2005 Honda Civic, so space is always at a premium, but that doesn't stop me from attempting to haul stuff that is too big to fit into my small car. Once I bought a BBQ and had to empty all of the piece from the box into the car to get it to fit- in the rain. I felt bad for the poor guy helping me.
With all the renovations we are doing at home this would definitely come in handy!
Enter to win a 2012 RAM 1500 courtesy of Lowe's!
I had to make three trips to get the concrete stones for my garden, so it would be nice to not have to make multiple trips.
This Contest Closes on September 30.
Enjoy :),
-Sandra☆
More Related Offers: