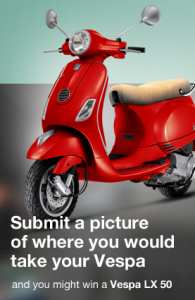 With the price of gas and the expenses of a car, I'm surprised more of us don't drive around in these cute little cruisers!
If you had a Vespa, where would you drive it around? Maybe on the streets of Italy? Or perhaps along the rolling hills of the country side in France? Submit a picture of where you would take your Vespa and you might win your very own Vespa LX 50.
P.S. Don't submit the picture on our website, click on the link below to make your way to the contest page!
I would love to have a Vespa to drive around on campus!
This contest closes on August 31st.
Good Luck!
-Caitlin
More Related Offers: