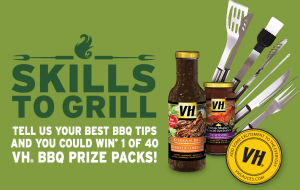 Just because summer is coming to an end doesn't mean that the grilling has to as well. Share your grilling secret on the VH Facebook page for the chance to win 1 of 40 VH BBQ prize packs.
I think my grilling tip would be that I keep steak and pork at room temperature before I grill them, while I keep chicken and fish in the fridge right before I grill!
Yumm I would love to try out the Korean BBQ sauce on my steak!
This contest closes on August 27th.
Enjoy!
-Caitlin
More Related Offers: