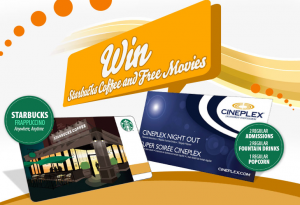 Are you looking for a way to cool down this summer? How about enjoying a Starbucks Frappucino? Or maybe it's a rainy Sunday and you want to hit the movies? Cineplex has a contest that's perfect for whatever weather summer throws as us!
Enter now for the chance to win one of ten $500 Starbucks gift cards or one of 50 Cineplex Night Out passes.
I love movies but I think I am a self-proclaimed coffee addict so I would love the Starbucks gift card. Imagine all the Grande Caramel Fraps you could buy! 🙂
This contest closes on July 31st.
Enjoy!
-Caitlin
More Related Offers: