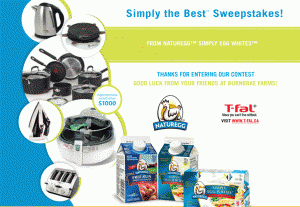 There are 5 Prize Packages to be awarded. Each Prize Package has a value of approximately $600 and consists of a Nutri Cook and an Actifry Family.
A home deep fryer – So cool! I would make lemon greek style new potatoes, breaded shrimp and so much more! This would completely redefine my cooking regime. 🙂
This contest closes on April 30th.
Enjoy :),
-Sandra☆
Enter the T-Fal Prize Contest HERE
More Related Offers: