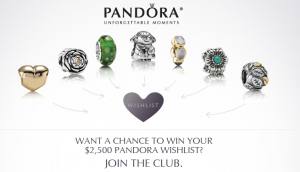 Do you love charm bracelets? What about necklaces that make a statement? How about earrings that go with any outfit?
You can compose a wishlist that just keeps going on and on because there are so much choice at Pandora!
Well that is what it would feel like it you won Pandora's shopping spree! You could win $2,500 worth of Pandora accessories!
If I won this prize my bridesmaids would love to come with me to pick out some wondering pieces for my big day!
Contest closes on October 31.
*Note* Where it says enter your ZIP code, entering your postal code with a space in between will work. There is one prize for Canadians and one prize for the US to be won.
Enjoy :),
-Sandra☆
More Related Offers: