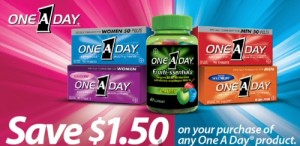 I keep meaning to start taking vitamins but I just can't seem to get into the habit. I also have trouble with the big caplets getting stuck on their way down.
Print this coupon off and save $1.50 on any One A Day product.
Maybe this is a good excuse for me to try their new Gummies vitamins!
Enjoy :),
-Sandra☆
More Related Offers: