SORRY! This Coupon Has Expired!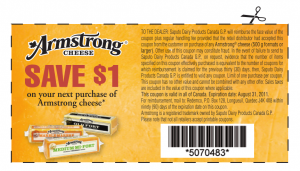 It doesn't matter if you have your cheese with your sandwich, pasta or omelet because you will be saving just the same!
Armstrong wants you to save $1 on their cheeses. I love cheese, especially anything old and strong. I actually think I'm out of cheese at home so this coupon came at the perfect time!
Good Luck!
-Caitlin
More Related Offers: