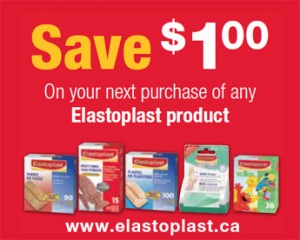 The beginning of the summer is always rough for my feet. Breaking in shoe after shoe with blisters on the side, tops and backs of my feet. After that, I am okay, but I definitely need a lot of bandages and blister bandages during those first couple of weeks!
This coupon will help! Print this coupon and save $1 off any Elastoplast product.
You never know when you will need them, so its great to keep a couple extra in your purse!
This Coupon Expires on August 31.
Enjoy :),
-Sandra☆
More Related Offers: