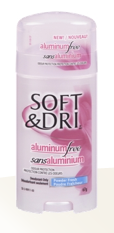 I had learned not too long ago that a lot of the brand name deodorants we use every day are actually loaded with aluminum, a chemical that is really unhealthy for our skin.
Soft & Dri is great because their products are completely aluminum free and they are cheaper than ever! Get your coupon now to save $1 on their deodorant.
Now you can stay clean and know that you are being body friendly!
Good Luck!
-Caitlin
More Related Offers: