SORRY! This Coupon Has Expired!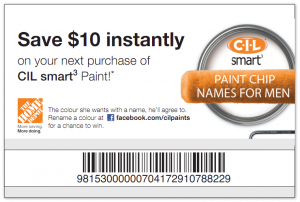 Pick the paint colour you love with the colour name he loves!
Right now Home Depot wants you to trade their girly paint colour names for something a little more masculin (I don't know about you but Sugar Blush and Cotton Candy Cloud aren't my definition of manly!).
When you pick a colour and change it's name, you will get access to your $10 off coupon for CIL Paints. You will also be put in the running to win a $10,000 Home Theater!
I changed Fairytale Pink to Salmon – that's the manly name for when men wear a pink shirt. 😉
Create Paint Chip Name for Men
Good Luck!
-Caitlin
More Related Offers: