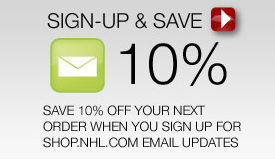 I have been wanting a new hockey jersey for a while but they can be really pricey, so I haven't gotten one yet. Then I was on the NHL store and noticed a great deal to save some money on NHL gear!
Join the NHL mailing list and receive special discounts, customized offers, new product alerts and 10% off your next purchase!
Not only can I get myself a new jersey but maybe a get a little of my Christmas shopping out of the way too!
Enjoy :),
-Sandra☆
More Related Offers: