SORRY! This Coupon Has Expired!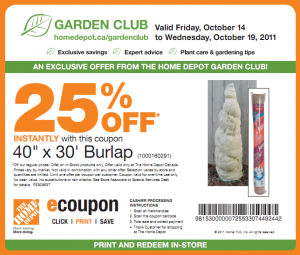 I need to find a nice weekend soon to prepare the yard and garden for winter. Put away the patio furniture, load up the garden shed and wrap my small trees and bushes in burlap to protect them from the snow this winter.
Home Depot has an awesome coupon that will save you 25% off 40″x30″ burlap until October 19!
The regular price is $10.99, so that is a pretty good savings!
Enjoy :),
-Sandra☆
More Related Offers: