SORRY! This Coupon Has Expired!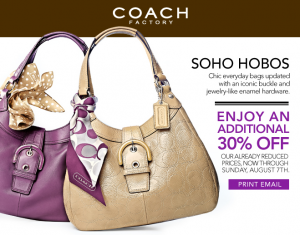 I was so happy to see a Coach Factory coupon this morning because I am heading to Niagara Falls for the long weekend!
It is even better because all the summer sales are on so I should hopefully be able to get some great deals!
With this coupon you get an additional 30% off until August 7!
Happy Shopping 🙂
Enjoy :),
-Sandra☆
Print Your Coach Factory Coupon
More Related Offers: