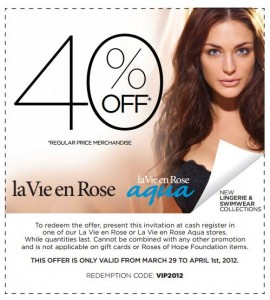 It's that time of year again where everyone is trying to get their body ready for swim suit season again. So after the countless hours on the treadmill, resisting the desire to eat anything but 'rabbit food' it's time to reward yourself with some shopping!
Stop by La Vie en Rose between March 29 and April 1 with this printable coupon and save 40% off regular price merchandise!
So whether you are due for a new swimsuit, bra or want to reward your hubby for fixing the leaky faucet these savings will definitely come in handy. 😉
This Coupon Expires on April 1.
Enjoy :),
-Sandra☆
Print Your La Vie En Rose Coupon
More Related Offers: