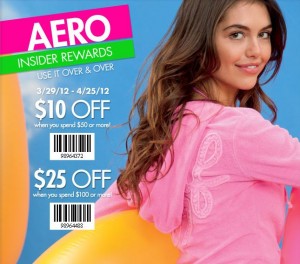 Spring has officially sprung and that means that it's time to bring out the pastels and fun bright colours. If you want to keep up with the latest and greatest from Aeropostale, then you are in luck because you can have the great clothes and save some cash while you are doing it!
When you bring this coupon in to Aeropostale, you will be able to save $10 when you spend $50 or mor or $25 when you spend $100 or more.
And you can use this coupon as many times as you would like until it's expiration!
When you spend $100 it's like you would be getting a free shirt or a couple cute accessories! That's sounds like a great (and dangerous) deal to feed my shopping addiction!
This offer ends on April 25th.
Good Luck!
-Caitlin
More Related Offers: