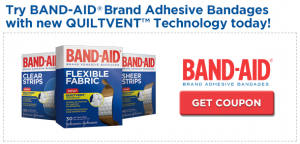 Ellen Degeneres has teamed up with BAND-AID to give you one cute contest! Parents all over the country have submitted videos of their little ones talking about the benefits of BAND-AIDs and they need your help picking the best entry.
When you submit your vote you will be in the running to win $10,000 and you will automatically get a coupon to save $0.50 on any BAND-AID quilted product.
I've picked my favourite and voted, now it's your turn! 🙂
This contest closes on July 13th.
Enjoy!
-Caitlin
More Related Offers: