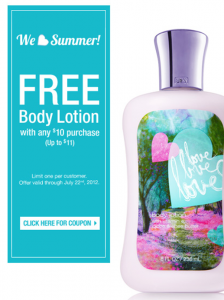 Loving the Bath & Body Works summer lotions? They are perfect for keeping your body hydrated during the hot days and you get to smell pretty nice too!
When you head to the Bath & Body Works in the next couple days and spend $10 to receive a free body lotion! But the question is, what scent will you pick?
This offer ends on July 22nd.
Enjoy!
-Caitlin
More Related Offers: