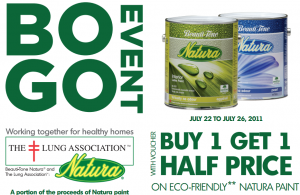 Is it me or is there always a project on the go in the house? Or if there isn't we want one to be so we can beautify our homes one room at a time.
Renovating and decorating can cost a lot of money, so here is a helping hand from Home Hardware.
From July 22-26 buy 1 can of Natura Eco-Friendly Paint and get the second at half price with this coupon.
At first your husband will be disappointed there is yet another thing for him to do (after all he is taller so he can reach up the wall easier) but then he will see the savings and thank you 🙂
Enjoy :),
-Sandra☆
Print Your Home Hardware Coupon
More Related Offers: