SORRY! This Coupon Has Expired!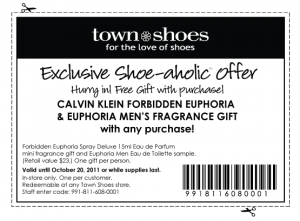 I have been wanting this pair of Steve Madden boots from Town Shoes but if I come home with another pair of shoes my fiance would not be too happy!
Town Shoes has an awesome coupon that I could use as a peace offering to get my new boots.
Print out this voucher and you can get a freeCalvin Klein Forbidden Euphoria & Euphoria Men's Fragrance Gift with ANY purchase!
Maybe that will make him say yes 😉
This coupon expires on October 20.
Enjoy :),
-Sandra☆
More Related Offers: