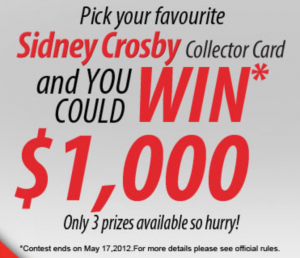 Calling all hockey fans! Or more particularly, Sidney Crosby fans!
If you love Sidney Crosby as much as you love the sport of hockey itself, then you probably know his hockey cards like the back of your hand. Head to the Demspters Facebook page and you will be able to vote for your favourite Sidney Crosby hockey card. Once you cast your vote, you will be eligible to win 1 of 3 $1,000 prizes!
After you have entered to win, you can get a coupon to let you save $1 when you purchase any two loaves of Dempster's WholeGrains bread. This coupon is great for making those lunches!
This contest closes on May 17th.
Good Luck!
-Caitlin
More Related Offers: