SORRY! This Coupon Has Expired!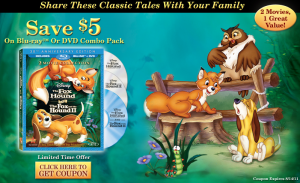 When I was young my parents would collect all the Disney Classics on VHS as they came out of 'the vault'. Years later I find myself doing the same thing only collecting them on DVD and Blu-ray.
This coupon entitles you to $5.00 off Fox and the Hound on Blu-ray or DVD combo pack.
Just sign into Disney Movie Rewards and you can print your coupon. (If you aren't a member of Disney Movie Rewards, it only takes a few minutes to create a login and don't worry, it's FREE!)
Fox and the Hound was one of my sister's favourites.
I look forward to sharing these movies with my kids one day 🙂
Enjoy :),
-Sandra☆
Get Your Fox and the Hound Coupon
http://womenfreebies.ca/coupons/fox-and-the-hound-coupon/
http://www.disneymovierewards.go.com/promotions/special-offers/fox-coupon
Aug 14
More Related Offers: