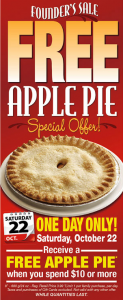 This offer has EXPIRED.

I tend to do most of my grocery shopping on the weekend so I will certainly be making a stop at M&M Meat Shops on Saturday!
When you spend $10 or more ($40 in Quebec) you will get a Free Apple Pie (while quantities last of course)!
Their beef pot roasts are so amazing, I think I will pick one up to have for Sunday dinner and M&M can take care of the dessert 😉
Enjoy :),
-Sandra☆
Quebec FlyerNova Scotia, New Brunswick and P.E.I. FlyerNewfoundland FlyerBritish Columbia, Alberta and Saskatchewan Flyer Manitoba FlyerVancouver Island, Yukon and Northwest Territories Flyer
More Related Offers: