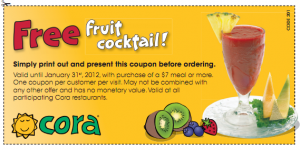 This offer has EXPIRED.

How can I resist a FREE Fruit Cocktail with a $7 meal at Cora? If you've been to Cora, then you know what I mean. 🙂 My decision now is whether to go for breakfast or lunch.
Never been to Cora? Then here is the link to their Store Locator to help you see if there is one in you area: Cora Store Locator
** Coupon Expires on January 31st.
Enjoy!
Annette ❀

Print your Free Fruit Cocktail Coupon
More Related Offers: