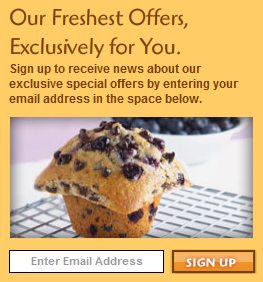 Join Bruegger's Bagels and mmmuffins' email list and you will receive special offers including a coupon for a FREE muffin!
Once you have signed up the coupon arrives in your email the next day for you to use within the next 14 days!
Now that will go nice with my coffee this morning 😀
Also, they will send you a coupon on your birthday for a Free Cupcake!


Enjoy :),
-Sandra☆
More Related Offers: