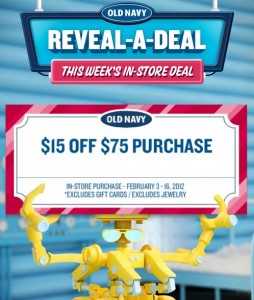 Old Navy keeps giving us great shopping deals! It's time to take the stage on some rocking clothes savings!
When you spend $75 at Old Navy, you will save $15 on your purchase. Those are some great savings and who knows – maybe you could grab an extra shirt or cute accessory with the money you are saving!
With all the nice weather we should be having soon, it really makes me want to go shopping! 🙂
This Coupon Expires on August 2nd.
Enjoy :),
-Sandra☆
More Related Offers: