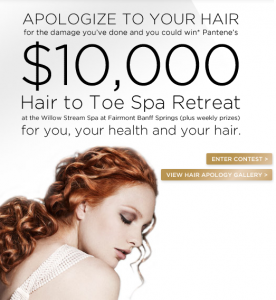 Apologize to your hair for all the damage you've done and you could WIN a $10,000 Hair to Toe Spa Retreat from Pantene!
I know I've been harsh to my hair! From horrible haircuts and perms to literally ironing it. I do owe my hair an apology! This is a pretty amazing incentive to make that amends right now!
There's a coupon to save $2 off Pantene too!
☺
~ Emma
More Related Offers: