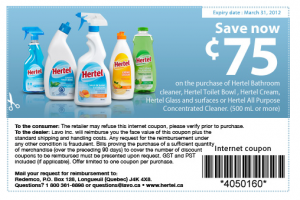 Cleaning may not be the most exciting (or fun) event of the day, but it is one of those things that just has to be done. With great cleaning products like Hertels, they make cleaning that much more efficient (and cheaper!).
Head to their website to get access to a coupon that will let you save $0.75 on their bathroom, toilet bowl cleaner, cream, glass and surfaces and all purpose cleaner.
I love getting new products to try around the house, they even motivate me to clean – and I have to take advantage of those motivations whenever I can! 😉
This coupon expires on March 31st.
Get Access To Your Coupon Here
Happy Cleaning!
-Caitlin
More Related Offers: