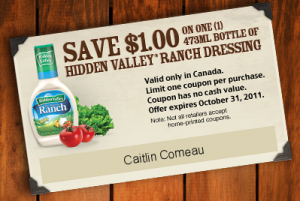 Salads are a great option for keeping things light and healthy but a recent study just showed that buying the healthier options in the grocery store will cost you quite a bit more than you expected.
That's why I was so excited to hear that Hidden Valley is helping us save and keep those healthy diets in tact!
Make your way to their Facebook page and get access to your $1 off ranch dressing coupon.
Good Luck!
-Caitlin
More Related Offers: