SORRY! This Coupon has Expired!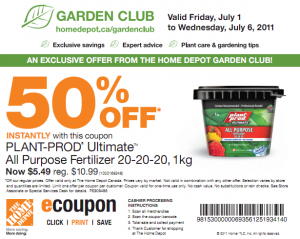 In the last couple of weeks I have found that my plants need a little bit of fertilizer to still look great no matter how hot it gets!
I was excited when I saw this coupon for 50% off of Plant-Prod Ultimate All Purpose Fertilizer at Home Depot!
This coupon is good until July 6!
I have never tried Plant-Prod products before but for $5.49 for a 1kg container instead of $10.99 it is certainly worth a try 🙂
Enjoy :),
-Sandra☆
More Related Offers: