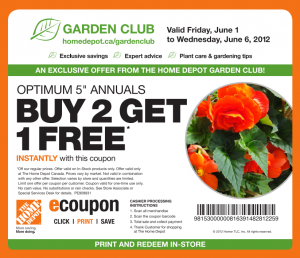 When the weather is nice gardening can be such a relaxing pass time!
So when the sun is shining next, break out the gardening gloves and sunscreen and make your way over to Home Depot! Their Garden Club is always coming out with great freebies and this is no different!
Print out this coupon and you will be able to get a free Optimum 5″ Annual when you purchase two.
I just planted a couple of these flowers in my yard and they are so beautiful! They add such a nice splash of colour. 🙂
This offer ends on June 6th.
Enjoy!
-Caitlin
More Related Offers: