SORRY! This Coupon Has Expired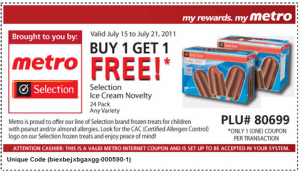 In the summer, I can`t seem to keep ice cream in the house! It seems as soon as I get home from grocery shopping it is the first thing that is eaten.
Metro has an awesome coupon from July 15-21 buy 1 get 1 FREE off of frozen ice cream novelties.
Maybe I can go hide a box in the basement freezer so I always have some when I want it 😉
Enjoy :),
-Sandra☆
More Related Offers: