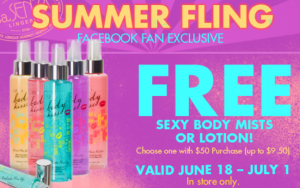 One of the things I love about La Senza is their great beauty line. I've been desperately saving one of their eye shadow products because it's been discontinued!
If you love La Senza as much as I do, you will be happy to hear that you can receive a free Sexy Body Mist or Lotion with the purchase of $50 or more!
I have a couple of their mists but I'm eager to try their lotions. They also have some adorable bras so it looks like I know where I will be after work today!
This offer ends on July 1st.
Good Luck!
-Caitlin
More Related Offers: