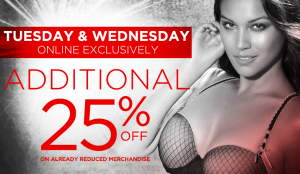 Whether it's a new bra, a new pajama set or a new bathing suit that has caught your eye, there is no better time to hit the stores than today, July 25th.
For this limited period, you will be able to save 25% on already reduced merchandise! This means great deals on great items that were already less expensive than normal.
I need a couple more PJ sets for these warm summer nights we've been having. I know where I will be heading after work today! 🙂
This offer ends on July 25th!
Enjoy!
-Caitlin
More Related Offers: