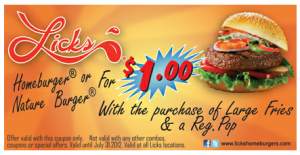 We've all had those nights, where it seems as though the only time you have a second to breath is when your head hits the pillow.
Lick's wants to give you one less thing to worry about when it comes to those crazy nights. When you purchase a Large Fry and Regular Pop you will be able to get a Hamburger for only $1!
I love Lick's burgers as they always leave me feeling satisfied when I leave. Knowing I can get a hearty meal for less is great! I think I'm going to use this on my lunch break. 🙂
This offer ends on July 31st.
Enjoy!
-Caitlin
More Related Offers: