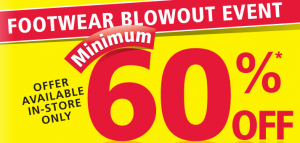 Whether you need some heavy duty work attire or some casual clothes for around the house, Mark's Work Warehouse has got you covered.
Head to any location and you will be able to save at least 50% on all their clearance items and 60% on their Denver Hayes and Windriver footwear!
This is even bigger than most Boxing Day sales! You're going to want to take advantage of this one ladies, sales like these won't last long, and neither will the sizes!
Good Luck!
-Caitlin
More Related Offers: