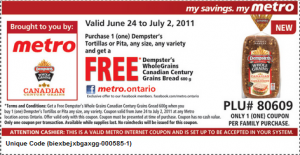 Buy a package of Dempster's Tortillas or Pita and get a FREE loaf of Dempster's WholeGrains Canadian Century Grains Bread.
Just bring your coupon with you to your local Metro to cash in on the savings!
I always buy Dempster's Tortillas in the summer because they are great for summer wraps, so free bread is a bonus!
Coupon Expires July 2
Enjoy :),
-Sandra☆
More Related Offers: