SORRY! This Coupon Has Expired!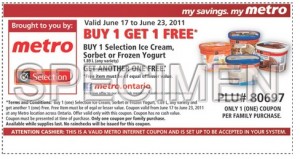 I'm craving orange sorbet right now. I haven't had it in ages and my taste buds are due for an appointment. At Metro, you can redeem this buy 1, get 1 free coupon for Selection Ice Cream, Frozen Yogurt, or (drumroll please) Sorbet!
There's nothing like a nice frozen treat on a hot summer day. My fiance and I bought a box of 24 Popsicles this past weekend, and finished half the box in one sitting.
Yep, summer does that to us. Did I mention that they had vanilla ice cream in the center? Yummy 🙂 The coupon expires June 23rd.
Thanks ladies,
-Alyssa
More Related Offers: