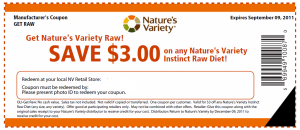 If you love your little furballs as much as I do, you would agree that you would not want to be feeding them dog foods filled with unwanted chemicals.
Get the good stuff and save with Nature's Variety.
I'm sure my dogs won't mind switching dog foods.. they will eat just about anything! (Including my kitchen chairs).
Get Your Nature's Variety Coupon Here
Good Luck!
-Caitlin
More Related Offers: